The Planning and Engineering Study for Housing Sites in Yuen Long South - Investigation was completed. The information in this website has been archived and will not be updated. Please visit the following website for the latest information on Yuen Long South Development Area: https://www.yls.hk
Preliminary Outline Development Plan (PODP)
Pedestrian and Cycling Connectivity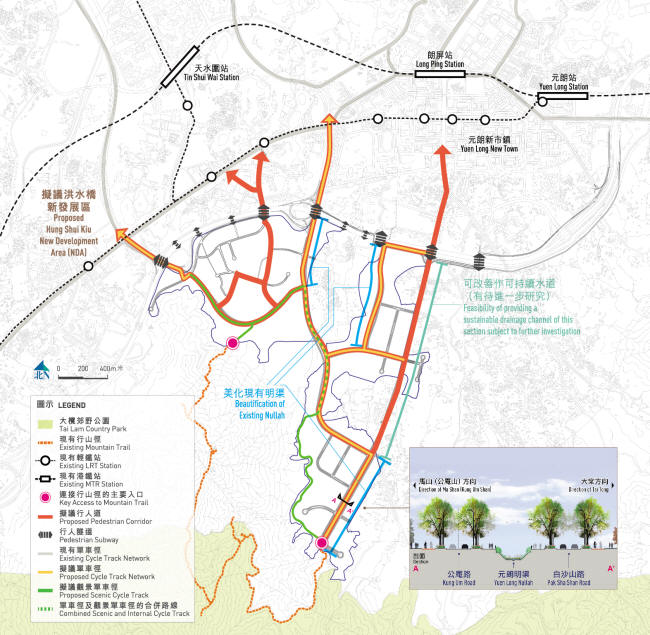 Pedestrian Network
Pedestrian networks are proposed connecting different parts of the PDAs comprising those planned along the proposed roads and improvements to existing ones. Externally, the pedestrian networks will tie in with those of the proposed Hung Shui Kiu NDA and the existing pedestrian corridor in Yuen Long New Town.
There are existing drainage channels within the PDAs and decking of the channels would be avoided as far as practicable. Through beautification and revitalisation, these channels would integrate with open space networks for providing a landscaped and pleasure walking environment. Yuen Long West Nullah, Tin Tsuen Channel and the southern part of Yuen Long Nullah would be revitalised. For the northern section of Yuen Long Nullah, the Study will conduct investigation on the feasibility of turning this section into a revitalised river channel and we would like to hear your opinions on it.
Cycling Connectivity
Cycle tracks supported by cycle parking facilities will be provided along pedestrian corridors for leisure and internal circulation. A scenic cycle track for recreational purpose is proposed running along the edge of the hillside of Ma Shan and the "Green Zone" to promote local tourism. The cycling corridor will lead to two key access points to the mountain trails in Tai Lam Country Park. The cycle track network will also be connected to the existing cycle track system along Castle Peak Road - Ping Shan via Long Tin Road and the Tin Shui Wai West Interchange.
---